Last edited by Ste V8 on Wed Sep 09, 2015 7:35 pm; edited 3 times in total
Here are the results from the 31/8/2015

V8 Stock Cars

Heat 1 - 31 Robert Harris, 323, 124, 34, 29, 411, 895, NOF.

Heat 2 - 15 Bradley Moss, 323, 34, 124, 29, 895, 31, 371, 411, NOF.

Final - 31 Robert Harris, 124 Dave Miles, 3 Andrew Faggetter, 34, 371, 895, 411, NOF.

On a side note if anyone has photos or has seen some anywhere can you please post or share location ?.
Seriously thou,
This is what i think the points should be. Spedeworth think differently, and seen as they change results without letting anyone know and move drivers up the grades with releasing a point chart, you will just have to decided which ones you believe. Personally i keep a record of all my own points and i know Spedeworth have mine wrong every month.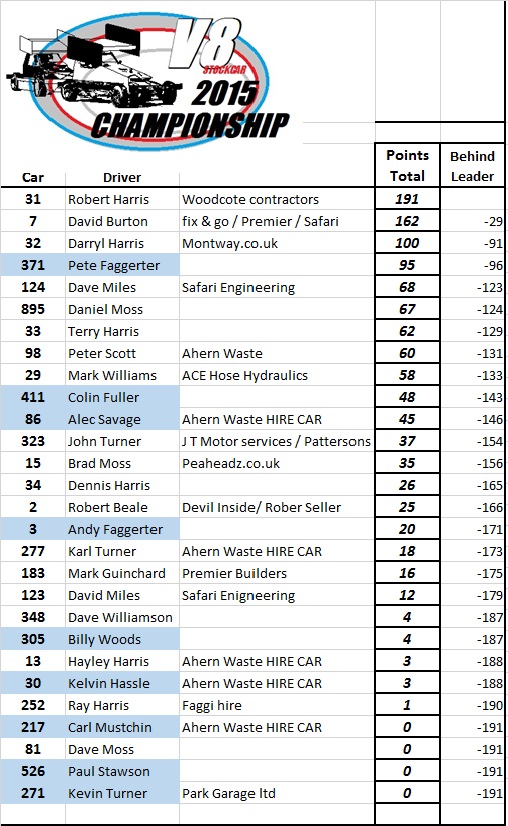 I am not claiming to be perfect as you know i have made errors. here is my working table that i update after every meeting. not 3 weeks later after i have decided which driver i like most ! you will also notice that EVERY driver who has raced and scored points in 2015 in this formula are on my table !! I noffered to email the table over but it fell on def ears as a response was not forth coming.not even a " no thanks"
If you see anything on there that you disagree with, please let me know i will not be offended. I will carry on doing this for the forum ONLY and will not be offering any assistance to Spedeworth again.

---
Permissions in this forum:
You
cannot
reply to topics in this forum