Aldershot results taken from Spedeworth web site and Mylaps.com

V8 Stock Cars - Southern Championship

Heat 1 - 31 Robert Harris, 29, 15, 411, 217, 348, 80, NOF.

Heat 2 - 31 Robert Harris, 15, 29, 2, 411, 217, 50, 80 ,NOF.

Final - 34 Dennis Harris, 31 Robert Harris, 15 Bradley Moss, 2, 411, 50, 348, 217, 80, NOF.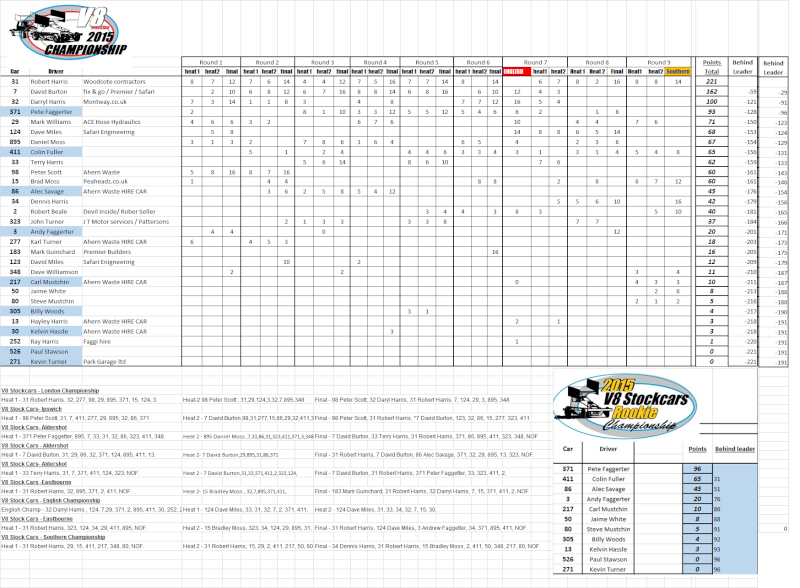 Last edited by Ste V8 on Wed Sep 30, 2015 7:26 pm; edited 1 time in total
all results and points are there for your reference and should not be taken as official. ( seen as they differ from the spedeworth results) But all results are also posted in the table.

As you can see Robert Harris has nearly secured enough points to be crowned points champion of 2015. With a possible 64 points available from the next 2 meetings is it a foregone conclusion?

The rookies points championship is still all up for grabs, Sadly it does seem that the points leader Peter will not be racing again this year, So it is all down to Colin Fuller to see if he can score enough points to catch up the points previously scored by Peter.
Last edited by Ste V8 on Thu Oct 01, 2015 1:43 am; edited 1 time in total
Stev8,

72 points? Thought it was 32 a meeting (8 + 8 + 16) which is maximum points? so 64 in total?







Posts

: 51


Join date

: 2009-11-18



Ok so we know im not perfect, that's two errors i have corrected today.


lol

No problem SteV8 it's a long day!

Love the results and the info you do, if you didn't do it, we'd not know what was going on for yonks!
Will have to get you updating the v8 website directly one day with this stuff.

~Keep up the good work.

Wonder if Colin will catch the flying Faggerter...



Posts

: 51


Join date

: 2009-11-18



Sorry but I cant see the points table on here , am I not doing something as I am not very good with techno stuff it just shows a cross? anyone help?
Rob2



Posts

: 353


Join date

: 2008-01-19


Location

: buckinghamshire



Hi Rob
If you are looking on your phone it might not show up. or you have to click on the link.
i have added just the points info below. in three formats that the forum allows.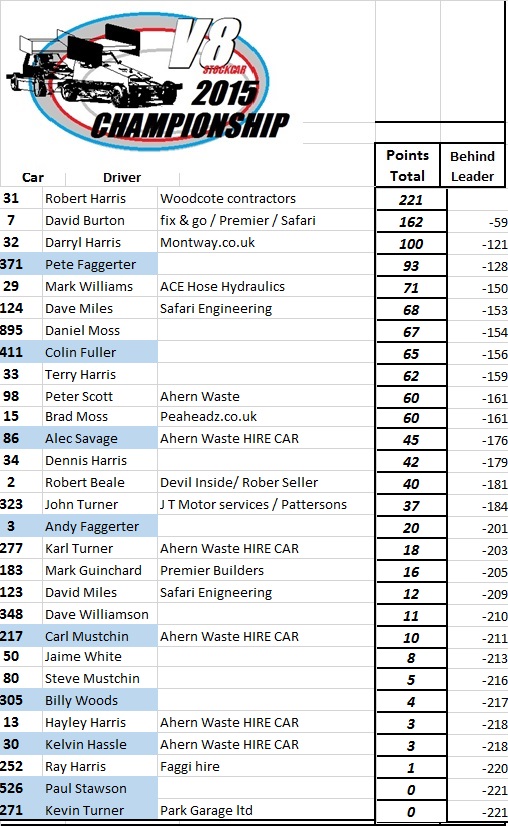 or click the link below and it will take you there.
http://i21.servimg.com/u/f21/19/20/65/16/points11.jpg



Posts

: 387


Join date

: 2008-01-16


Age

: 35


Location

: The royal county





Video of the meeting from Aldershot. If you can please share !



Posts

: 387


Join date

: 2008-01-16


Age

: 35


Location

: The royal county




---
Permissions in this forum:
You
cannot
reply to topics in this forum